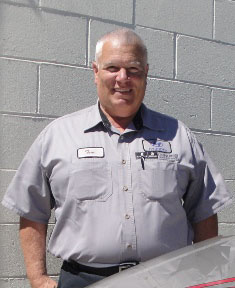 DCH Subaru of Thousand Oaks Hometown Hero
Tom Scafidi

Dealership Shuttle Driver Rescues Wounded Senior.
By John Scheibe
# Posted May 3, 2008 at midnight on www.vcstar.com
A Thousand Oaks woman is thankful to be alive after falling and spending 24 hours on the floor of her condominium, unable to get up.
Teresa Skardina, 81, dropped her vehicle off at the Ladin Lincoln Mercury dealership in Thousand Oaks on Tuesday, said Tom Scafidi, a service porter and shuttle driver at the dealership.
Scafidi said he drove Skardina back to her condo on Avenida De Las Flores while her car was being worked on.
Scafidi said Skardina seemed a little unsure on her feet as she walked back to her condo. He said she held on to his arm with a firm grip as he walked her to the door. He said she asked him to padlock her front gate on the way out, which he did.
The dealership later called Skardina's home to let her know her car was ready, but no one picked up the phone, Scafidi said.
On Wednesday, Scafidi was back in Skardina's neighborhood helping another customer. He decided to swing by Skardina's home on the way back to the office to make sure she was OK.
"When I got there I noticed that her gate was still locked," Scafidi said. He called Skardina's phone, but no one answered. Worried, Scafidi went up to one of the windows and called out for her.
"That's when I heard her calls for help coming from the inside," he said, adding he immediately dialed 911.
Skardina was taken to Los Robles Hospital & Medical Center, where she was reported in good condition on Friday.
She said she fell after getting home Tuesday. Try as she might, she was unable to pull herself up from the hallway floor.
"I have bad knees; that is what kept me from getting up," said Skardina by phone from the hospital Friday. She said she scraped her shoulder badly in repeated efforts to get up.
Skardina very much wants to return to her home once she is out of the hospital.
But she fears she may be forced to go to an assisted-living center.
"I like living on my own, I like my independence," said Skardina, a widow from Syracuse, N.Y. who moved to Thousand Oaks in 1989.
Antoinette Hagopian, an advocate with Senior Concerns, a multiservice agency for seniors and their families in Thousand Oaks, said there are gadgets available to seniors to alert authorities should they fall and be unable to get back up. All they need do is press a button to alert appropriate authorities.
Such gadgets "have saved a lot of lives," Hagopian said.
Unfortunately, some seniors are unable to afford the monthly service fees that companies charge for the gadget, she said. "But if you can afford it, it's worth every penny," she said.
There are other steps to make a home safer for seniors, she said, including installing bars along the walls to hold on to.
Hagopian predicts the demand for such gadgets will increase in the coming years as more people live longer.
"A lot of seniors are living to a very productive old age," she said.